Alan Hamilton, President / Founding Director
Lamy, NM
Alan holds a BA in Mythological Studies from Colorado College, an MA in Liberal Arts from Saint John's College, and a PhD in Clinical Psychology from Pacifica Graduate Institute. His professional work has been quite varied, including many years working as a psychologist, house builder, marketing consultant and community organizer around river conservation and other environmental issues. After working as the Conservation Director for the New Mexico Wildlife Federation for six years, Alan worked as the New Mexico Wetlands Coordinator for 3 years for Ducks Unlimited and the New Mexico Department of Game and Fish. One of Alan's strengths is his ability to find interdisciplinary connections that bring new perspectives and possibilities to difficult situations. He has been writing and lecturing on the link between environmental degradation and cultural depression and the notion that mental health and environmental health are one and the same. A native of Colorado, he has lived in Santa Fe, NM since 1981 with his wife Sarah and daughters Emma and Laura. Along with his family, the cultures, rivers, and landscapes of New Mexico have become primary sources of inspiration which motivates and informs his work.  Alan has recently retired from his private therapeutic practice after 18 years as a clinical psychologist but is still providing qualitative consulting to businesses and organizations on a contractual basis through In-Sight-Consulting.
Todd Lopez, Executive Director
La Cienega, NM
Todd has been active for over 15 years in private practice as a natural resource, water law and environmental attorney and more than 20 years in non-profit and social justice work. Todd has served on the Board of Directors of several non-profit organizations on issues involving youth, education, peace building, and the environment, and currently serves on the Board of the New Mexico Interfaith Community Housing Development Corporation, Mediators Beyond Borders International and Creativity for Peace. Todd currently oversees administration of the Inspire Santa Fe youth mentorship program (www.inspiresantafe.org) when he's not wrestling with water rights in the office or with Russian olives in the field.
Reid Whittlesey, Restoration Director
Rio En Medio, NM
Reid graduated from Humboldt State University with a B.S. in Environmental Science and Ecological Restoration.  He has successfully managed the implementation of over 40 federal, state, and private water quality, riparian ecosystem, wildlife habitat, and watershed improvement projects and has been working in the field of restoration since 2009. The partnerships on these projects have included:  United States Forest Service,  New Mexico State Land Office, City and County of  Santa Fe, Bureau of Land Management, New Mexico Department of Game and Fish, Valles Caldera National Preserve, New Mexico Environment Department, Energy, Minerals & Natural Resources.  Before becoming the Restoration Director for Rio Grande Return, Reid served briefly as the Acting Restoration Director at WildEarth Guardians after having worked as their Program Field Coordinator for ten years from 2009-2019. He enjoys rock climbing, skiing, botanizing, and trying to reduce the erosion rates on his property north of Santa Fe. 
Cecil Rich, Ph.D., Director of Resilient Waters
Santa Fe, NM
Cecil completed a Ph.D. in Fisheries and Aquatic Science from Purdue University and an M.S. in Aquatic Ecology from Montana State University, and for the past 25 years has worked with State and Federal agencies to protect and restore streams and rivers. This included serving as a fish and aquatic ecologist on the Santa Fe National Forest where he worked collaboratively with staff and a range of stakeholders to implement process-based restoration methods aimed at improving the health of streams and riparian areas. Cecil is passionate about supporting Rio Grande Return and our partners in applying science-based natural methods to conserve New Mexico's precious water and habitat resources and offset the impacts of a warming climate.  Cecil also works to help alleviate regulatory and public policy obstacles to scaling up riverscape restoration. He is a devoted father of his daughters, Sylvia and Ivy, and enjoys helping to nurture in them a love for wild places.
Harold Yazzie, Restoration Team Member
Torreon Chapter House, Navajo Nation, NM
Harold has been in the field of restoration since 2009, after working as a school bus driver, trucker, greasemonkey, and cattleman on his family's ranch. Harold's wealth of institutional knowledge, practicality, and mechanical skillset makes him a crucial part of the restoration team. From welding our decade old auger bits to maintain their function throughout the planting season, keeping our trailer in shape, and helping to plan upcoming projects, he is always making sure everything is running functionally and efficiently. He is an avid motorcyclist, and enjoys taking his Harleys (a '98 Sportster and a '02 Fatboy) or Kawasaki KLR 650 on rides.
Neariah Toledo, Restoration Team Member
Torreon Chapter House, Navajo Nation, NM
Neariah started working in restoration in 2012 as a YCC crew member, working three terms with the WildEarth Guardians YCC crew. Since then, he has been working as part of the restoration team and accompanied the rest of the crew to Rio Grande Return in 2020. He looks forward to studying restoration ecology in a couple of years, once his three year old son is a little bit older. He likes to ride horses, do ranch work, and rock climb. Neariah is an excellent machine operator, and another strong link in the Rio Grande Return restoration team.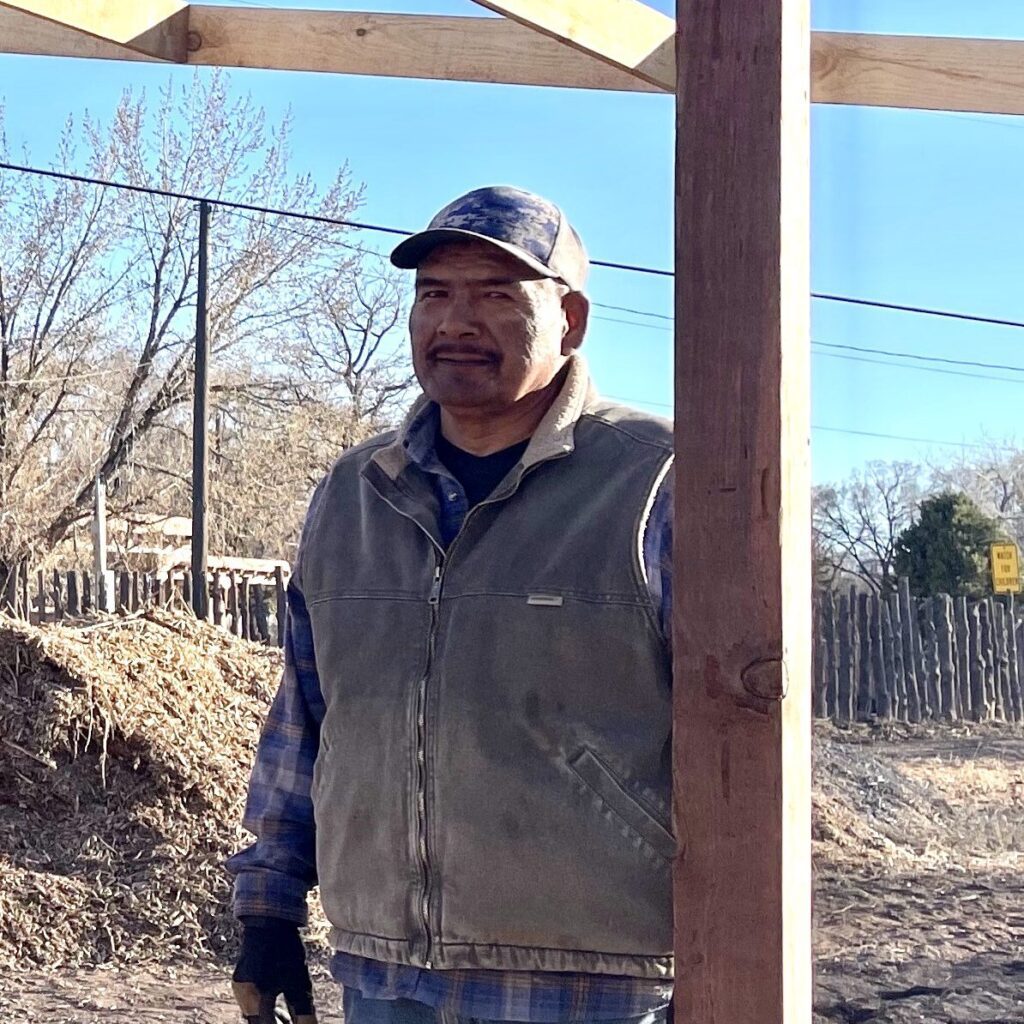 Nicky Sandoval, Restoration Team Member
Torreon Chapter House, Navajo Nation, NM
Nicky came to restoration work in 2010 from a background in construction and ranching. He enjoys farming, growing plants, and livestock husbandry. Every year he cultivates a big garden using dry-land farming techniques. He enjoys fishing, and stays busy raising livestock, herding sheep, and fixing fences at home. He is an excellent fence builder, and a master at refining tasks to high levels of efficiency.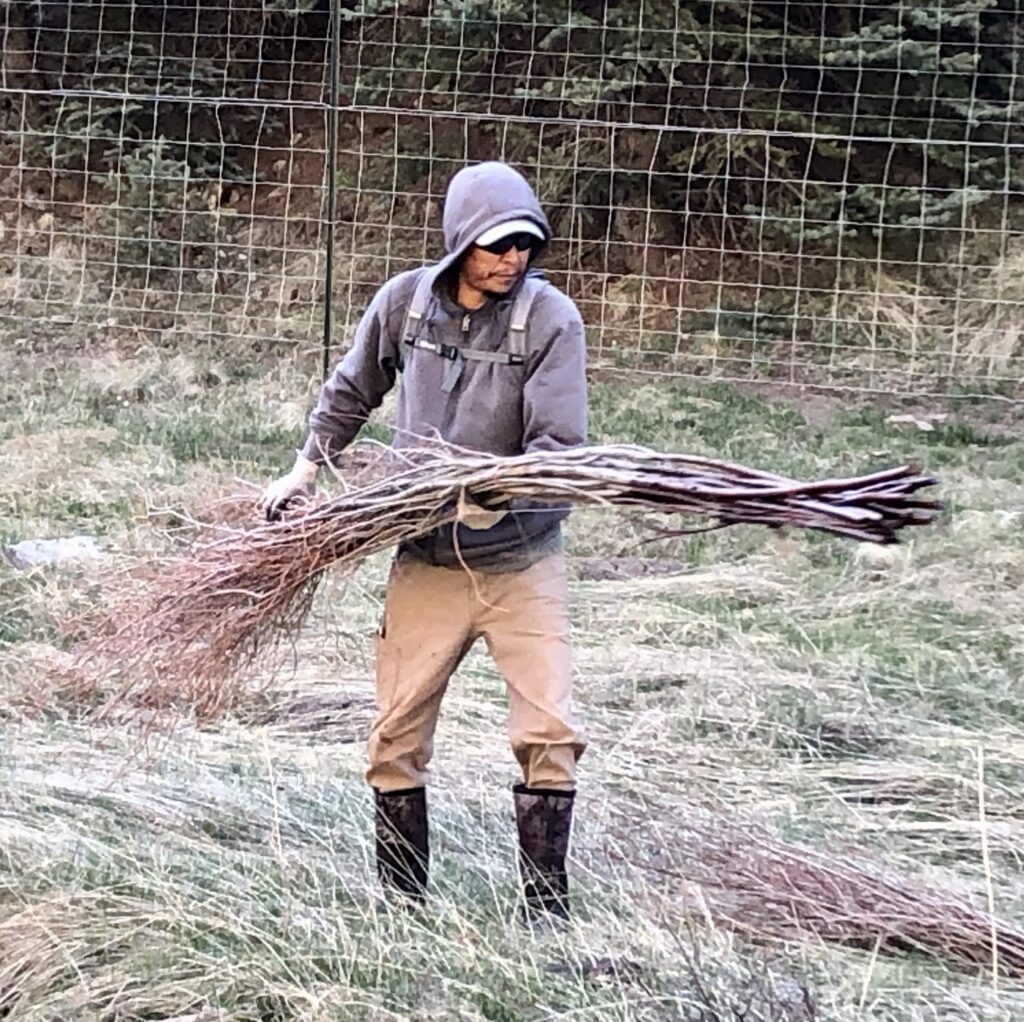 Seymour Nez, Restoration Team Member
Torreon Chapter House, Navajo Nation, NM
Seymour began working in restoration in 2011, coming from a background in construction and fence building. On the restoration team he is a superb generalist, with an amazing ability to foresee tasking needs. He is always looking several steps ahead, and is in exactly the right place when something needs to happen. Outside of work, Seymour is an avid fisherman, having transitioned to a fly fishing kit in the last couple years.
Whitesun Yazzie, Restoration Team Member
Torreon Chapter House, Navajo Nation, NM
Whitesun is the Restoration Team's newest member, having joined in early 2022. He first came to restoration through working a couple of terms as a YCC crew member, where he helped on stream and habitat restoration projects, building fences, improving trails, and replanting native vegetation in the Jemez mountains and on the Ramah Navajo Reservation. He is an avid fly fisherman and outdoorsman, and is eager to help restore and preserve the natural resources he so enjoys. Through fishing, he has learned to acutely pay attention to the benthic macroinvertebrate communities, and is impressive in his observations of minute critters.
Peter Watson, Restoration Team Member (Summer Seasonal)
Prescott, AZ
Peter is a rising senior working on his bachelor's degree in Environmental Science at Prescott College. Peter is from Jemez Springs, NM. He is passionate about wildlife and fish, and about preserving and restoring the mountains that he calls home.
Anders Hastings, Restoration Team Member (Summer Seasonal)
Fort Collins, CO
Anders is a rising junior working on his bachelor's degree in Restoration Ecology at Colorado State University. Anders loves learning about plant identification and is pursuing a career in restoration because it is important and fulfilling work that helps the environment. 
Tyler Holmen, Restoration Team Member (Summer Seasonal Intern)
Winona, MN
Tyler graduated in spring 2023 from Winona State University with a bachelor's degree in Geoscience/Environmental Science. Tyler is interning with Rio Grande Return this summer through a collaboration with Saint Mary's University GeoSpatial Services. He will continue to work for Saint Mary's University in the fall as a wetland mapper. Tyler enjoys understanding scientific concepts and being able to explain them to others. 
Cameron Weber, Habitat Conservation Director
Corrales, NM
Cameron serves as Habitat Conservation Program Director for Rio Grande Return. Her projects are primarily focused on rewilding agricultural landscapes and ecological systems dependent on human participation. She has a BA in social and political philosophy and German and holds a master's from UNM in Community and Regional Planning, where she focused her thesis research on the use of long-term ecological monitoring data for Middle Rio Grande habitat restoration planning and evaluation. Cameron has over 15 years of cumulative experience in ecological farming, native plant materials, conservation planning, and habitat restoration project management. She serves on the boards of the Albuquerque Wildlife Federation and the Southwest Chapter of the Society for Ecological Restoration, and lives among a hundred different heritage apple trees with her family in Corrales.
Abe Aufdermauer, BS, EIT, Conservation Habitat Team Member
Albuquerque, NM
With experience in public land management, landscaping, farming, environmental engineering and monitoring, Abe assists the Habitat Conservation Program. Before returning to his hometown of Albuquerque's North Valley, he worked for three years in the field of water resources engineering in California's Central Valley and Sierra Nevada mountains designing and implementing landscape-scale riparian restoration projects to support endangered species habitat and the water infrastructure of Central California. He graduated from Humboldt State University with a B.S. in Environmental Resources Engineering with a focus on water quality and applied hydraulics. He enjoys spending time metalworking, farming, backpacking, skiing, and at his ranch in Northern New Mexico.
Jacob White, Habitat Field Technician / Community Resilience and Justice Specialist
Corrales, NM
Jacob is a Habitat Field Technician with the Habitat Conservation Program. Jacob is an outdoors enthusiast and believes collective action through environmental restoration and climate resilience initiatives is imperative in order to protect and steward our shared environment. Through work, he hopes to help individuals and communities strengthen their connection to nature and foster a greater sense of community. Jacob enjoys running and is currently working towards finding his stride running 5k's and 10k's after several years of inactivity on the race scene.
Karen Menetrey, Director of Ecological Opportunities
Santa Fe, NM
Karen worked for the New Mexico Environment Department for 30 years in various programs that protect and restore surface water and groundwater. In the Surface Water Quality Bureau, she oversaw the River Stewardship Program that restored rivers, streams and riparian areas throughout the state, and worked in the Wetlands Program on wetland mapping, planning, protection and restoration. In the Ground Water Quality Bureau, she worked on pollution prevention, revitalization of Brownfields properties, and cleanup of groundwater and soil contamination. Karen graduated from the University of California at Santa Barbara with a BA in Geological Sciences and took graduate coursework in Hydrogeology at the University of Wyoming. Some of her personal interests are directly compatible with healthy river systems: birdwatching, fly fishing, paddleboarding, and trail running.
Jutta von Gontard, Board Member
Jutta was raised and educated in Germany and Ecuador and has lived in the US for the last forty years. Ten years ago she retired from a rewarding career as a non-profit professional. Her work as a fundraising and program development executive took her to Israel, Central America, and Southern Africa, where she helped support community-based development and microfinance programs. Recently retired from her last position as Senior Program Director for a New-Mexico based environmental organization, Jutta started an encore career as manager of a women's clothing store in Santa Fe. She enjoys walking in her neighborhood and in the mountains, spending time with family and friends, and reading an eclectic selection of classic and contemporary literature (including mysteries) from around the world.
Steve Harris, Board Member
Pilar, NM
Steve is executive director of Rio Grande Restoration non-profit river conservation group dedicated to protection of the ecological and economic values provided by the Rio Grande. In this capacity, he writes, speaks and advocates for the resolution of river issues, especially policies to protect flowing water.  He has participated in river restoration projects, such as the Middle Rio Grande Endangered Species Collaborative Program, in public policy forums, such as regional water planning and presently manages the Rio Chama Flow Project. He is also, since 1976, the owner of the river touring company Far-Flung Adventures, which has introduced thousands of persons to the Rio Grande.  He resides in a small riverside village in northern New Mexico, at the bottom end of the acequia del ojo.