Riverscape Restoration
Restoring New Mexico's vital rivers, streams, and tributaries that serve as the bloodline to a vast and precious environment
Riverscape Restoration Projects
San Antonio Creek
Building upon restoration efforts in 2019 and 2020, we continued working towards restoring the ecosystem function of San Antonio Creek in 2021 and 2022 with the maintenance of existing structures and addition of more large woody debris structures, beaver dam analogs, cattle exclosures, and additional willow plantings. Both projects were funded by the New Mexico Department of Game and Fish, utilizing Habitat Stamp funds that all hunters and fishers support through purchasing licenses. In 2022 we began planting in May, with a variety of site appropriate species of willow including Salix bebbiana, S. ligulifolia, S. exigua, and S. amygdaloides. Over 25 acres were planted in the effort, at relatively low densities and in a design that mimics natural willow breaks. Large Woody Debris Structures now number over 60 in the two-mile reach, with almost 40 BDAs (both posted and postless) supporting water table elevation increases. Data collected from six shallow groundwater monitoring wells shows an average water table increase of 37.9″ (over three feet!) in the last four years facilitated by the project. Conservatively, this corresponds to a roughly 100 acre foot increase in water storage within the project site.
Rito Peñas Negras
The scope of this project was to continue to build upon in-stream installations, have the flexibility to work outside of the channel on some of the springs and wetlands and to continue to address upland erosional issues as needed. This project included an in-stream treatment of over 7 miles of stream, including the construction of new BDAs and Assisted Log Structures (ALS). We used a "plug and spread" design to facilitate re-wetting of the historic extent of the wetland and rockwork using one rock dams, Media Lunas, Zuni Bowls, rock rundowns, etc. to support erosion control on the uplands. Site appropriate willow plantings and construction of cattle or elk exclosures in the reaches above and below Sawmill Canyon were also completed in the effort to restore function to Rito Peñas Negras.
Rio San Antonio
This project on the Rio San Antonio spans approximately 3 miles and employs a diversity of restoration techniques aimed at improving water quality, specifically reducing stream temperatures and E. coli loading. Work was completed with funding from the NM Environment Department and support from the Carson National Forest.
"*" indicates required fields
Read About Our Other Restoration Projects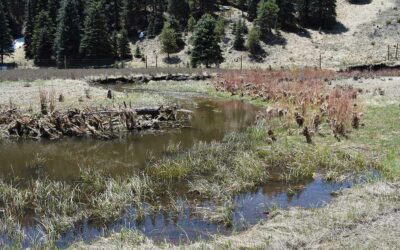 "I don't think we will need rubber boots, we can usually avoid stepping in the saturated areas at San Antonio Creek," I told colleagues before heading out for...
read more