Restoration
Limited resources. A light touch. A heavy impact.
Restoring degraded environments one shovel at a time
Rio Grande Return's Restoration Program continues to blossom and gain a leading role in restoration efforts throughout New Mexico. Restoration Director, Reid Whittlesey, has over a decade of on-the-ground experience in restoration practices and techniques since he began working in the field of ecological restoration in 2009.
The Restoration Program is grounded in utilizing low-tech process-based methods for restoring degraded environments and is guided by a philosophy that a holistic and minimally invasive approach is the best way to restore our environment. Some of our most successful restoration projects utilize low-tech process-based tools such as beaver dam analogs (BDAs) and post-assisted log structures. As stewards of the land, by implementing such techniques and instilling our philosophy within the conservation community it is our hope that nature will be able to heal its rapidly deteriorating environments and flourish under its own capacity for self-renewal with the alleviation of degrading forces and minimal interventions of restoration.
Riverscape Restoration
We repair New Mexico's riverscapes through holistic process-based methods. Our goal is to use a low-tech approach that is as minimally invasive as possible through techniques such as replanting of native riparian vegetation and installing low-tech tools like beaver dam analogues (BDAs) and post-assisted log structures (PALS).
Urban Habitat Restoration
Support our restoration efforts
We all have a responsibility to repair what we've broken. Our restoration and conservation work is made possible through federal, state, and private funders like you.
Your donation will help us keep the lights on while supporting our field work.
Read About Our Other Projects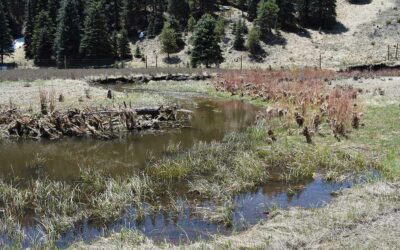 "I don't think we will need rubber boots, we can usually avoid stepping in the saturated areas at San Antonio Creek," I told colleagues before heading out for...
read more