Post-Fire Restoration
Restoring the lands and waterways that have been ravaged by wildfires in New Mexico
Post-Fire Restoration Projects
Watershed Project Implementation for Upper Gallinas River and Porvenir Creek -Phase IV
The aim of this project was to reduce the threat of potential water quality impairments on the Upper Gallinas River and Porvenir Creek and to prevent debris flows affecting downstream communities as a consequence of the Spring 2022, Hermit's Peak and Calf Canyon Fire. We constructed site appropriate drainage structures in ephemeral/intermittent channels in partnership with the Hermit's Peak Watershed Alliance and local landowners. Structures were made with local materials (rocks or logs), and secured in place using high-tensile organic rope to prevent mobilization during high flows. Structure types included secured large woody debris structures, log mats, one-rock-dams, run-downs, and Zuni Bowls.Contour felling was conducted on the uplands to reduce erosional risks in high-severity areas where 100% of the canopy was burned. Several high flows occurred after the implementation began, and the in-channel structures functioned as designed, catching significant amounts of debris and sediment.
Philmont Boyscout Ranch
Ute Park Watershed
Our restoration crew installed over 25 targeted large woody debris structures within the Turkey Creek drainage with the intention of reducing debris flows that had been impacting the community of Ute Park that began occurring following the 2018 fire of the same name. The structures were designed to facilitate complex flow patterns, sediment deposition, and to reduce the flow velocity and debris transport. Some of the structures were of a larger stature composed of 4-6 trees, directionally felled and winched into place with the final structure representing a grade elevation of around 4-6'. These structures will function to attenuate high flows and dissipate energy through reducing the fetch between larger structures. Structures were built to ensure that they were not mobilized by future flood events, which was accomplished using a portable winch, and high-tensile rope and wire to fasten the structures in place.
"*" indicates required fields
Read About Our Other Restoration Projects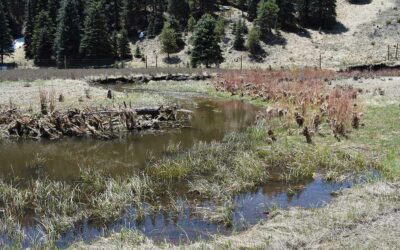 "I don't think we will need rubber boots, we can usually avoid stepping in the saturated areas at San Antonio Creek," I told colleagues before heading out for...
read more